Mason
Mason Resolution
Regular price
$2,195.00 USD
$0.00 USD
The unique brief: A modern, Italian made, Columbus steel, performance bike that excels across all seasons, surfaces and many disciplines. Disc brakes, adaptable internal routing, Di2 and clearance for larger tyres and mudguards. The buttery smooth ride of steel but with a stiff kick when you accelerate. It's all here.
RESOLUTION FRAMESET
Our award-winning Resolution frame set uses a custom blend of modern, high performance Columbus steel tubing and is designed for distance and comfort, combined with a lively and spirited ride. Choice of black or blue color-way.
Full details and photographs on website soon. 
MultiPort internal cable routing, disc brake specific, suitable for larger tyres mudguards and rack. Choose the steel Resolution for ultimate comfort over distance and that certain ride quality. Why steel? Read more here.
Our Resolution frame set is a real first. A combination of forward thinking technology, the best materials and hand-crafted excellence in construction that truly set it apart from any other brand.
We believe that no other currently available performance steel frame offers the same combination of progressive features and incredible ride quality. Coupled with the practical and performance advantages of disc-brakes, this is one incredible frame set.
Our own MultiPort adaptable, internal cable routing system is unique for a frame of this type. Developed by us to allow your Mason frame to be used with a combination of control systems and adapt and evolve with your requirements and riding styles. We are the first to bring this type of system to a performance steel frame.
Interchangeable alloy parts allow five options: 1. Full cable outer. 2. Hydraulic Hose. 3. Split outer. 4. Electronic cable [e.g. Shimano Di2]. 5. Blank.
We worked very hard to make sure all cable routes are as smooth and direct as possible to minimise drag and increase life and efficiency, there are no 'sumps' in the cable runs to prevent moisture collection and shift deterioration.
Every tube on this frame has been hand picked to give a performance advantage.
The ovalised and facetted Spirit top tube has a wide profile that gives great lateral stability, especially when stomping hills out of the saddle and it mates perfectly with the large head tube.
The oversize 'D section', Spirit down tube gives a greatly increased weld area at the base of the taper head tube and at the bottom-bracket shell. The flat top to the tube provides a wide weld along the top of the BB shell and avoids excessive overlap onto the seat tube. Ultimately, this tube helps to provide fantastic ride feel with instant steering response, and a rock solid BB meaning maximum power output at the wheel.
The modern taper head tube with stainless bearing seats takes our own, taper-steerer 'Aperture' full carbon fork, providing flex-free braking and instant response to steering input. Read more about our fork here. An oversize seat tube gives the frame superb core-stability and keeps the BB stable, we use a 27.2mm post size for comfort.
Comfort is also enhanced by our custom bend, hourglass profile seat stays, their shape helping to smooth the ride and give ample clearance for large tyres and full mudguards. The deep section chain stays are designed for efficient power transfer and once again clearance for larger tyres and 'guards. Both sets of stays are formed from taperwall Columbus Life tubing.
Read more about the tubing here.
All eyelets on frame and fork are hidden out of the way where possible, so this adaptable frameset hides it's multi-purpose capabilities until you are ready to bolt on the wet weather or luggage carrying gear.
For the bottom bracket, we choose a 68mm, BSA, threaded standard for our 4Season frames because we believe it gives greater durability and creak-free reliability over many miles. The threaded BB is easier to service using standard tools and you are more likely to find a replacement when adventuring far from home.
This highly detailed frameset provides an ideal basis to build a bike for a host of different uses, many customers are using the Resolution to replace two or three of their existing bikes, whilst treating it to the build list of their dreams.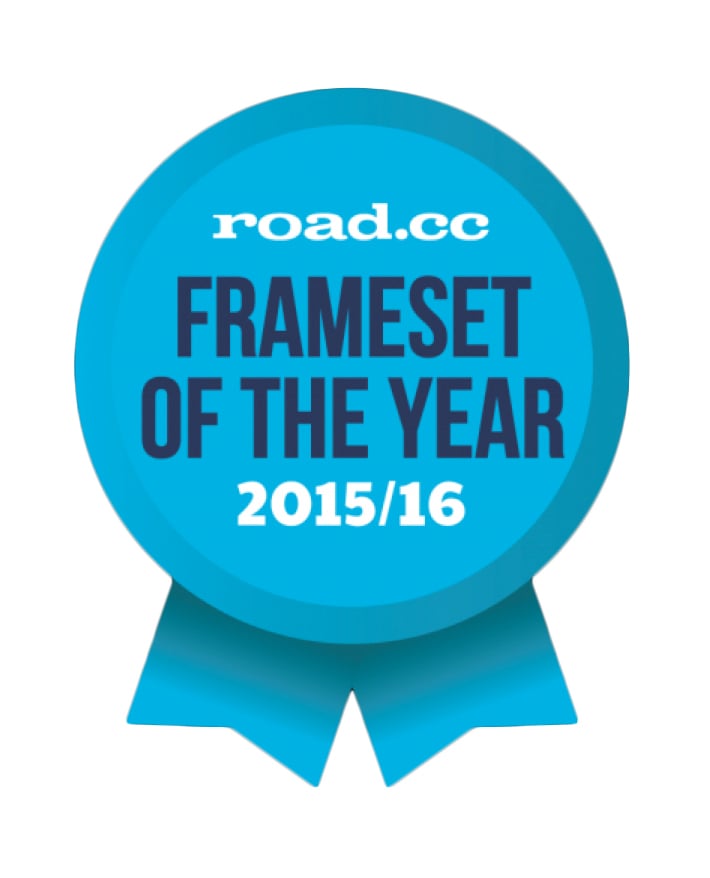 The following parts are provided with your frameset;
Deda Headset. Expander-bung for fork. M∆SON Macro clamp. Marine Grade Stainless bolts x 12. M∆SON 3D printed Structural Nylon BB guide inc screws. M∆SON 3D printed Structural Nylon mudguard mounts for fork x 2. Cable liner for front mech. Di2 rubber grommet 45º x 2. Rubber blanking grommet x 1. Resolution only: P-Clips x 2 for running rear-mech cable down drive-side seat-stay.
MultiPort Inserts: 'FlipFlop' inserts: Interrupted-outer/Di2 x 4. Hose or full outer/Blank x 2. ConvertaBall x 4.
|   | 50CM | 52CM | 54CM | 56CM | 58CM | 60CM |
| --- | --- | --- | --- | --- | --- | --- |
| SEAT TUBE C/T | 500 | 520 | 540 | 560 | 580 | 600 |
| SEAT TUBE C/C | 452.7 | 473.0 | 493.5 | 513.6 | 534.1 | 554.0 |
| BB DROP | 73 | 73 | 71.5 | 71.5 | 71.5 | 70 |
| REAR CENTRE | 420 | 420 | 420 | 420 | 420 | 420 |
| TT EFFECTIVE | 532.8 | 537.4 | 551.5 | 561.1 | 581.3 | 586 |
| TT ACTUAL | 516.8 | 522.7 | 536.3 | 546.7 | 566.9 | 574.3 |
| STACK | 543.3 | 552.8 | 565.5 | 579.7 | 591.1 | 599.1 |
| REACH | 380.6 | 382.5 | 383.0 | 388.3 | 394.7 | 396.8 |
| STAND-OVER | 756.5 | 770.8 | 787.3 | 804 | 818.1 | 833.1 |
| OFFSET | 45 | 45 | 45 | 45 | 45 | 45 |
| TRAIL | 66.3 | 66.3 | 66.3 | 66.3 | 63.2 | 63.2 |
| FORK CROWN HEIGHT | 380 | 380 | 380 | 380 | 380 | 380 |
| HEAD ANGLE | 71.5º | 71.5º | 71.5º | 71.5º | 72º | 72º |
| HEAD TUBE LENGTH | 130 | 140 | 155 | 170 | 180 | 190 |
| SEAT TUBE ANGLE | 74.5º | 74.5º | 73.5º | 73.5º | 72.5º | 72.5º |
| WHEELBASE | 999.1 | 1004.1 | 1009.6 | 1019.7 | 1024.7 | 1030.2 |
| FRONT CENTRE | 590 | 595 | 600 | 610 | 615 | 620 |
| AXLE SPACING | 135 | 135 | 135 | 135 | 135 | 135 |
| FRAME WEIGHT DEFINITION | TBC | TBC | TBC | TBC | TBC | TBC |
| FRAME WEIGHT RESOLUTION | TBC | TBC | TBC | TBC | TBC | TBC |
| FORK WEIGHT APERTURE | 365g | 365g | 365g | 365g | 365g | 365g |
| STEM | 90 | 90 | 100 | 110 | 110 | 120 |
| HANDLEBAR (OUTSIDE DIMENSION) | 42 | 42 | 44 | 44 | 46 | 46 |
| CRANKARM | 170 | 170 | 172.5 | 172.5 | 175 | 175 |
---
More from this collection